The 2022 Subaru Love Promise Customer and Community Commitment Award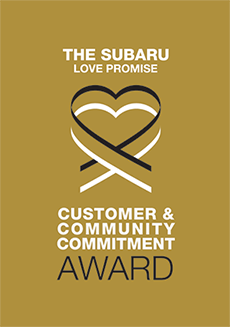 We've been nationally recognized for our dedication to our customers, our community, and the Subaru Love Promise.
We're honored to receive the 2022 Subaru Love Promise Customer and Community Commitment Award. This award nationally recognizes elite Subaru retailers who provide an exceptional customer experience at every interaction with Subaru. These retailers have also demonstrated an outstanding commitment to supporting passions and causes in their local communities in important areas such as the environment, community, health, education, and pets.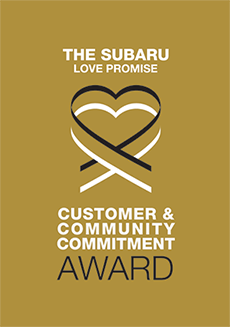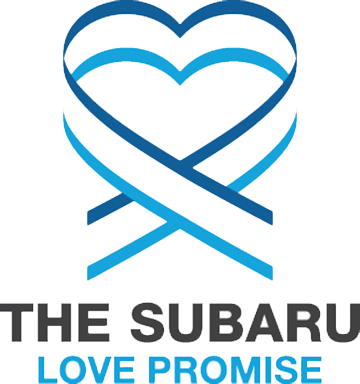 What is the Subaru Love Promise?
Subaru and our retailers believe in making the world a better place and the Subaru Love Promise is our vision of respecting all people. This is our commitment to show love and respect to our customers and to work to make a positive impact in the world.
How is Montgomery Subaru dedicated locally to the Love Promise?
Our Love Promise can be seen in various partnerships with local charities and non-profits. We're grateful for the opportunity, not only to be a part of our community, but to serve it as well.
Montgomery Humane Society
Montgomery Public Schools
Montgomery Area Council on Aging, Friendship Mission
Love Promise Stories from Montgomery Subaru
Subaru and Montgomery Subaru believe in making a positive impact on the communities in which we live and work. We uphold that belief through our Love Promise Community Commitment. Every month, we select inspiring stories from customers and partners from around our area who strive to support our collective commitment and feature them here
Garden Share Goes a Long Way at Montgomery Subaru - Megan C
For the last seven years, the plot of land behind Montgomery Subaru has been used for the betterment of people's lives in a community garden. Each year, the space has grown to what is now a 1/8 acre space of Alabama-grown vegetables. It started as a way for employees and customers to take home nutritious food to their families. As the garden grew, there were more opportunities for this space to "give back." Throughout the years, Montgomery Subaru has donated thousands of pounds of vegetables to various local charities. In 2022 they started a formal "Garden Share" to support the Montgomery Council on Aging, a local Meals on Wheels charity and Friendship Mission, a local homeless shelter. In summer 2022, the dealership staff planted 52 tomatoes, 8 eggplant, 16 bell pepper, 5 hot peppers, 3 rows green beans, 60 zucchini, 30 yellow squash, 28 cucumber, and 2 rows of okra. The garden has not only been a great team-building exercise for the staff, but its harvest also provides a great amount of nutritional value to those who need it most.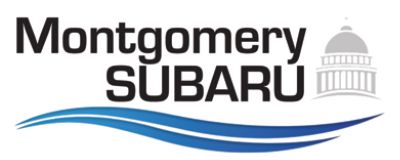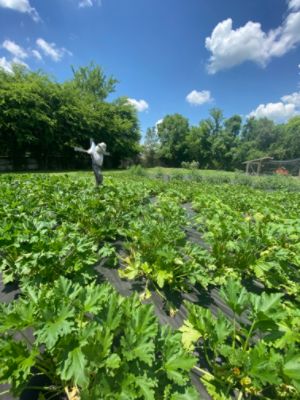 ---
Montgomery Subaru Major Sponsor for Puppy Palooza - Lea T
On April 30, 2022, The Shoppes at Eastchase held a Puppy Palooza benefiting the Montgomery Humane Society. Montgomery Subaru didn't hesitate to be the major Sponsor for this event. The great staff at Montgomery Subaru set up a vendor tent making customized dog tags for donations to MHS and giving away prizes, with their commitment and support the Montgomery Humane Society was able to adopt 9 dogs at this event.

---
Love in Action, Shared - Tara D
Operating two aging buildings 24 hours a day, every single day of the year takes a toll of the facilities. Having the funding to cover the costs of repairs for plumbing, heating and air conditioning, large appliances and electrical mishaps is critical to the operations at Friendship Mission, Inc. (FMI). For 25 years, Friendship Mission has served Montgomery and beyond with emergency shelter services for those who are homeless and a public soup kitchen for those who would be hungry without the service. In the wake of the pandemic, FMI has noticed an increasing demand for shelter and Soup Kitchen meals. The unexpected costs that have come with the increased demand for services could have had a negative impact on our budget, but Montgomery Subaru shared their love of community and service with us. The more than $7,000 raised for Friendship Mission through the Share the Love campaign and the countless garden produce hauls helped us operate in the face of more men, women, and children seeking emergency shelter and more people standing in line for Soup Kitchen meals. In 2021, Friendship Mission shelters and soup kitchen combined served 48,000 meals and sheltered nearly 300 people. At the rate of new intakes, we know that we will far surpass last year's numbers. Food and financial assistance from Montgomery Subaru is love shared, returned, and appreciated!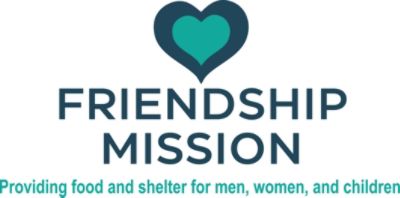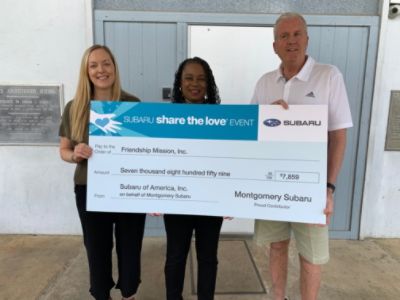 ---
Challenge Accepted. Wishes Granted. - Mary M
Make-A-Wish Alabama Trailblaze Challenge is a unique endurance hiking event and more than 600 Alabama adventurers have taken on the Challenge. The assignment is clear: 26.3 miles in the Talladega National Forest in one day. This scenic trek will provide participants an opportunity for adventure, fitness and fun while directly impacting the lives of Alabama children fighting critical illnesses. Our goal was to raise one million dollars and through the community of Alabama and generosity of Montgomery Subaru we were able to exceed that goal. The impact of their donation will help us to continue to grant wishes to wish kids in Alabama, like wish kid Melody. She loves to swim, jump on her trampoline, and watch Frozen 2. She is described from her loved ones as spunky, just like her mom! She was diagnosed with cancer at the early age of 5 years old. Chemotherapy robbed some of the spunk in Melody. Her spirits were down amidst such a trying time. When Melody was asked what she wanted her wish to be, she wished to have a puppy of her own that she could take care of. Not just any puppy, a French bulldog puppy! Her French bulldog puppy was given to Melody with a pink bow and all! Melody's puppy brought back Melody's spunk and good spirits that cancer tried to take away from her.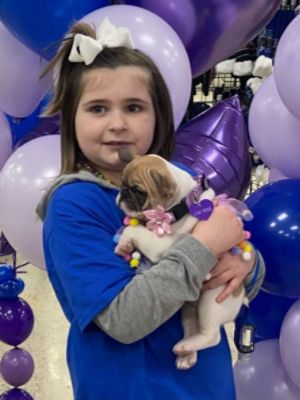 ---
Montgomery Subaru Continues to Help Homeless pets - Lea T
The Montgomery Humane Society was presented a check for $7,147.00 from the Share the Love program on April 4, 2022. Our partnership with Montgomery Subaru is priceless, they continue to support our shelter and help so many homeless pets in our community. This donation will go to help dogs and cats get spayed/neutered, get heartworms treatment for so many dogs that entered our Shelter and of course to keep them fed and healthy. We cannot thank Montgomery Subaru enough for their continued support, professionalism and partnership. We can always count on them.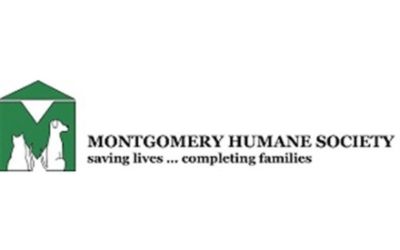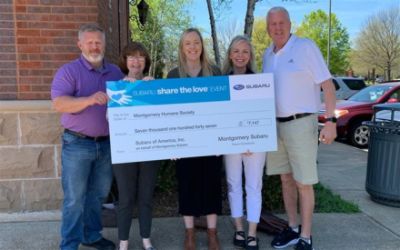 ---
Donation Drive for Friendship Mission - Megan C
Last November and December, Montgomery Subaru supported Friendship Mission by collecting donation items as part of Subaru Loves to Help and the Subaru Share the Love Event. Throughout this time, Montgomery Subaru collected items such as disinfectant, paper goods, utensils, water, linens, and clothing items. In exchange, customers received a $20 coupon for servicing their Subaru vehicles during that time frame. Montgomery Subaru received an overwhelming amount of donations during this time. At the end of the donation period, there were two truckloads of donated items that were able to be donated to Friendship Mission in January. These items were especially needed during this time of year, after the holidays and COVID-19 case spikes. Friendship Mission is a local homeless shelter in the Montgomery area, which supports local men, women, and children and provides them with food and shelter 365 days of the year. They serve over 40,000 meals at their soup kitchens annually and provide relief for over 300 people seeking shelter in our area.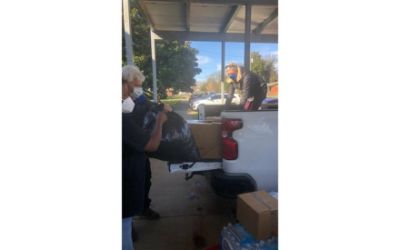 ---
A Warm Blanket and a New Pair of Socks - Tara D
On frigid days we really struggle with having enough supplies to help people in need. We often come up short on beds, blankets, and socks—the warm elements that many of us take for granted. Both last year and then again, this year Montgomery Subaru stepped-in to fill the gap that they might not have realized they are filling. Blankets and socks and food…Who knew that a local car dealership is packed full of a team who thinks far beyond the walls of their office space? With the supplies from Montgomery Subaru, we can stretch beyond our shelter walls to help those who are unsheltered and cold these winter months. There are people who do not accept our shelter services, but they will accept a warm blanket and a new pair of socks. Most recently, we encountered a veteran on our front steps; a young woman who suffers mental health challenges; and a man who lives under a bridge. We were able to give them each a nice, new blanket and socks. In return we received warm smiles and the They are not the only unsheltered neighbors we have been able to help this winter season with supplies from Montgomery Subaru, but their stories stood out to us. We are grateful to Montgomery Subaru for joining us on our mission to help those experiencing extreme homelessness and hunger.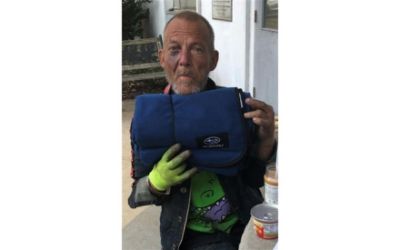 ---
Montgomery Subaru Helps 25 Pets Get Forever Homes - Lea T
Thanks to Montgomery Subaru for participating in #SubaruLovesPets in October. Because of the support of Montgomery Subaru, the Montgomery Humane Society was able to have a special adoption weekend where we were able to reduce our adoption fees. Megan Campbell came to our shelter that weekend and gave out collars and leashes for each adoption along with a customized name tag for their collars. The Montgomery Humane Society was able to get 25 homeless pets adopted that weekend with the support of Montgomery Subaru. One of the adoptions was an underdog named Everett, he had to have his eye removed and we also had Cain adopted who was deaf. MHS loves working with Montgomery Subaru, they are always willing to help in any way to find loving homes for our homeless pets.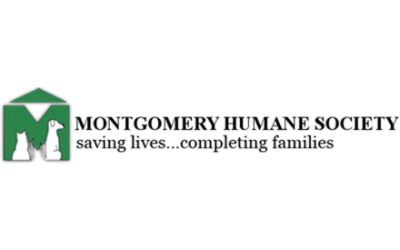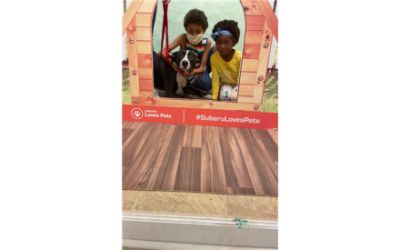 ---
Montgomery Subaru Supports Education - Tameka S
Throughout the month of August, Montgomery Subaru and its customers showed support to Thelma Smiley Morris Elementary by collecting encouraging messages for teachers. Teachers are the backbone of our community here in Montgomery and they can't be thanked enough for their dedication to youth. Montgomery Subaru also generously donated $3,000 through Adopt-A-Classroom to Thelma Smiley Morris Elementary. These funds can be used by school administrators and teachers to purchase necessary classroom supplies that are needed throughout the year. Montgomery Subaru hopes these funds will help enhance the many classrooms at this school and take the burden off teachers during this crucial time in education. We really appreciate team at Montgomery Subaru enough for making this happen for us!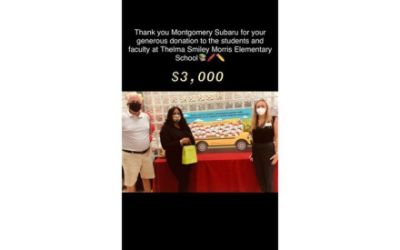 ---
Excellent staff - Brooke S
Thank you to Drew Gim at Montgomery Subaru for making our purchase so easy. Drew kept in personal contact with me during the entire time that our Subaru was on order. The entire staff was very eager to help and make sure our needs were met. Thank you making our first Subaru purchase an amazing one. Brooke Smith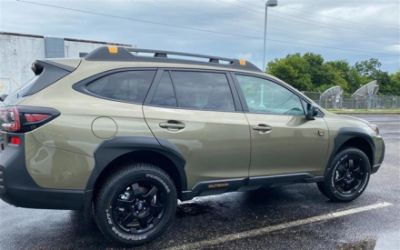 ---