The 2021 Subaru Love Promise Customer and Community Commitment Award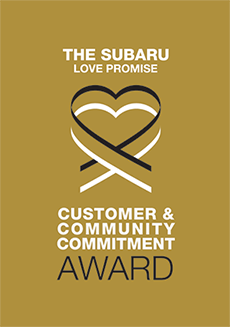 We've been nationally recognized for our dedication to our customers, our community, and the Subaru Love Promise.
We're honored to receive the 2021 Subaru Love Promise Customer and Community Commitment Award. This award nationally recognizes elite Subaru retailers who provide an exceptional customer experience at every interaction with Subaru. These retailers have also demonstrated an outstanding commitment to supporting passions and causes in their local communities in important areas such as the environment, community, health, education, and pets.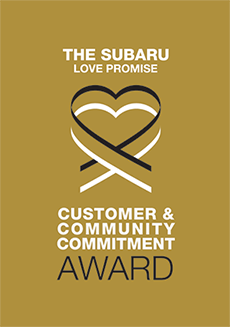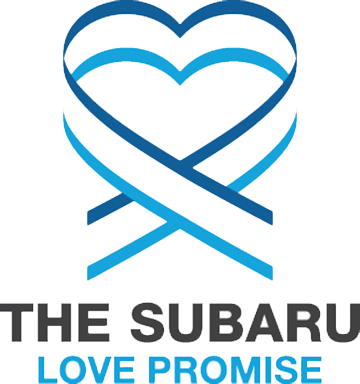 What is the Subaru Love Promise?
Subaru and our retailers believe in making the world a better place and the Subaru Love Promise is our vision of respecting all people. This is our commitment to show love and respect to our customers and to work to make a positive impact in the world.
How is Montgomery Subaru dedicated locally to the Love Promise?
Our Love Promise can be seen in various partnerships with local charities and non-profits. We're grateful for the opportunity, not only to be a part of our community, but to serve it as well.
Montgomery Humane Society
Montgomery Public Schools
Montgomery Area Council on Aging
Love Promise Stories from Montgomery Subaru
Subaru and Montgomery Subaru believe in making a positive impact on the communities in which we live and work. We uphold that belief through our Love Promise Community Commitment. Every month, we select inspiring stories from customers and partners from around our area who strive to support our collective commitment and feature them here
Excellent staff - Brooke S
Thank you to Drew Gim at Montgomery Subaru for making our purchase so easy. Drew kept in personal contact with me during the entire time that our Subaru was on order. The entire staff was very eager to help and make sure our needs were met. Thank you making our first Subaru purchase an amazing one. Brooke Smith
---
Montgomery Subaru Sharing the Love - Al B
MONTGOMERY, Ala. (April 14, 2021) -- Montgomery Subaru once again selected Montgomery Area Food Bank (MAFB) to participate in Subaru's "Share the Love" program as a Hometown Charity! Today, Montgomery Subaru's Vice President John Danielson and Marketing Director Megan Campbell presented the proceeds from this year's campaign $7,020, which equates to more than 36,500 meals, to Montgomery Area Food Bank (MAFB) Chief Executive Officer, Rich Deem. During the past 13 years Subaru of America, Inc. has donated $250 to the purchaser's choice of participating charities. During that time Subaru and its retailers have made a real impact, donating more than $170 million to a wide range of national and local charities. Montgomery Subaru is a long-time partner of MAFB, having chosen MAFB to "Share the Love" for several years now. Montgomery Subaru has also provided plenty of sweat equity too by volunteering in the warehouse and even donating fresh produce from their company garden. Thank you Subaru…we're definitely feeling the love.
---
Share the Love to the Montgomery Humane Society - Lea T
The Montgomery Humane Society was presented a check for $7,540 from the Share the Love campaign on April 21, 2021. This donation will save over 150 homeless pets at our Shelter. Montgomery Subaru is a wonderful dealership that helps not only our homeless pets but people in our community. They are a great asset to our community and such a pleasure to work with.
---
Montgomery Subaru Loves the Earth - Jean S
On behalf of the Alabama Herb Society, we would like to express our sincere appreciation for your support of our 24th Annual Herb Day Event held on April 17 2021. Your Rose Level Donation of $500.00 was used toward the support of planned events on Herb Day. With the high Herb Day attendance this year, the five garden tool bags donated drew lots of attention for Montgomery Subaru. Herb Day attendees numbered between 1400 and 1500 shoppers. Thank you again for your support.
---
CrimeStoppers Annual Golf Tournament - Tony G
We are so happy to have corporate sponsors like Montgomery Subaru to support our efforts. Central Alabama CrimeStoppers is the leading non-profit agency that supports local law enforcement to provide information about crimes committed in the community. Funds are used to pay out rewards from anonymous tipsters who provide information about crimes in our local community. These calls result in solved crimes and make a huge impact in our community. We live in a much better place by having CrimeStoppers as a resource. This October, Montgomery Subaru sponsored our annual fundraising event at Robert Trent Jones Golf Course. We couldn't do what we do without support from businesses like Montgomery Subaru and appreciate the partnership throughout the years. Thank you so much for your support and we look forward to a continued partnership!
---
Montgomery Subaru Supports Joy to Life Foundation - Lauren H
We want to thank Montgomery Subaru for their participation and donation to our first annual Breast Cancer Scramble in Wetumka! Montgomery Subaru donated two Subaru cruiser bikes as a prize drawing for our event, and we couldn't be more appreciative. Through their contributions and community participation, we were able to raise over $5,000 for Joy to Life Foundation, which provides free breast cancer screenings to medically underserved women in Alabama. We look forward to next year's event and know we couldn't do it without local business support like Montgomery Subaru.
---
Shelter for our Feral Cats - Lea T
The Montgomery Humane Society takes care of several feral cats that live outside of our shelter. The weather is either very hot or very cold and we wanted to provide the cats with better shelter. We asked Montgomery Subaru if they would like to sponsor a shelter for our cats and they didn't hesitate to help. We call the shed "The Outback" for one of their great models of cars. Their dedication to our community is outstanding and we love partnering with them with animal-related events, they are always willing to help. We love the Danielson family.
---
Share the Love Donation - Laurel T
Child Protect cannot say enough good things about Subaru of Montgomery and the Danielson family. From partnering with our agency to provide snacks and blankets for the children we serve through Subaru Loves to Care to a donation through Subaru Share the Love, they have gone above and beyond for the child abuse victims in our community. The recent Share the Love donation came at a perfect time, with our spring fundraiser being cancelled due to the COVID-19 pandemic, and an uptick in child abuse cases. Thank you Subaru of Montgomery and the Danielsons for all you do for our community!
---
Montgomery Subaru Supports Putts Fore Paws - Lea C
Thank you so much for being a most awesome sponsor for this year's Montgomery CW and Alabama News Network 2nd annual Putts Fore Paws Golf Tournament on behalf of our shelter! With your help they donated a total of $4140 to our shelter today! That is simply awesome for just the 2nd year and a testament to supporters like you who helped make it such a success! As I type, we are caring for over 269 pets in our shelter (3879+ incoming so far this year) so this money will certainly be put to quick use in a number of ways. Again, thank you for your support and already looking forward to Putts Fore Paws 2020!
---
Montgomery Subaru Loves Learning - Allison B
For the second year in a row, Montgomery Subaru customers have demonstrated their support of STEM (Science, Technology, Engineering, and Mathematics), literacy, and learning through the generous donation of 150 STEM-related books to thirty Montgomery Public Schools (MPS) elementary libraries. On October 4, 2019, John and Megan Danielson along with Kahner Calloway attended a training session for MPS library media specialists to present the donated books and share information related to the Subaru Loves Learning initiative. Our elementary library media specialists were thrilled to receive the book donations which will add needed STEM resources to their library collections to support teaching and learning in their schools. This continued partnership between MPS and Subaru ensures that students and teachers will have books available in a continually growing and expanding STEM library collection to broaden students' knowledge of science, technology, engineering, and mathematics and peak their interest to learn more about these vital areas of study. Thank you to John and Megan Danielson and the Subaru family of customers who made this partnership and book donation possible. We look forward to many more years of working together to promote learning and literacy. Dr. Allison Blakeney, Montgomery Public Schools
---
Make a Dog's Day - Andy A
Subaru is proud to establish the first-ever National Make A Dog's Day October 22nd. As part of Subaru Loves Pets month, we're inviting all dog lovers to do something extra special for their furry best friends. Plus, Subaru will be focusing our efforts on helping the hardest-to-adopt shelter Dogs –those with special needs-find homes. Get ready to fall in love withThe Underdogs. #MakeADogsDay Meet Gabi! Gabi has been at the Humane Society of NWGA (Northwest Georgia) for seven years. If you asked the volunteers to pick their favorite animal at the shelter, Gabi would win hands down. She does not do well with dogs or cats so must be the only animal in an adult only family. She loves people and will bond very quickly to you. Gabi would make someone a great companion. She is waiting patiently for her forever home. If you have room in your heart and your home for this sweet girl then please fill out an adoption application, highlight and right click this link: https://hsnwga.org/adoption/application-for-adoption/?fbclid=IwAR2Ie18p6U3ryKi-niIuIZFTd-waD98xrySl7IJmiRBXE239WP7dpODubiU #MakeADogsDay #SubaruLovesPets #TheUnderdogs
---
Subaru Loves to Care Blanket Delivery - Montgomery Cancer Center B
I want to sincerely thank Montgomery Subaru for the kind donations of blankets for use by the patients at the Montgomery Cancer Center. Donations like these provide an opportunity for a volunteer to interact and provide comfort and encouragement to a patient. Thank you for your faithfulness. It is donations like these that help Montgomery Cancer Center and our volunteers to continue our mission of supporting cancer patients in Central Alabama. Their generosity is so important to a patient's treatment and time here at the Montgomery Cancer.
---
Subaru Loves to Care Blanket Delivery - Katherine F
On June 10, 2019, the Alabama Gulf Coast Chapter and Montgomery Subaru delivered messages of hope and 80 blankets to the Montgomery Cancer Center! I arrived at the Montgomery Cancer Center and met my Subaru contact, Megan, her mother, Karen, and a Subaru Ambassador, Helen. Nita, the Patient Relations Coordinator was telling us how in awe she is at just how many patients they get in there each day. She said they have 50 chemo chairs and many times they are all full. After snapping a picture, Nita graciously gave us a tour of the facility. It is extremely nice, complete with a coffee shop and a pharmacy. When we walked to the center of the building, we saw a bell set up next to a giant ribbon cut out. Pasted on the cut out were ribbons of all different colors to represent all of the different cancer survivors who rang that bell when they finish their chemo treatment! That was my favorite part of this visit, to see all of those ribbons whether they were blue, orange, pink etc; all of them representing survivors of such a terrible disease that we are all fighting to cure. Nita let us know that the blankets would be distributed by patient educators to new patients to make them feel comforted and welcome. Many thanks to everyone at Montgomery Subaru and Montgomery Cancer Center. We are grateful to be able to use this partnership with Subaru and the Montgomery Cancer Center to be able to spread the resources of LLS throughout more areas of Alabama! Thank you for this memorable day spreading love and hope to cancer patients and sharing our mission.
---
Share the Love helps save homeless pets - Lea T
On April 5, 2019, John and Megan Danielson came to our Shelter and presented us a check for $13,092.68! The funds were from the Share the Love event and we are so indebted to Montgomery Subaru for this donation. These funds saved hundreds of lives with spaying/neutering and medical treatment. We love partnering with Montgomery Subaru and it has been a tremendous gift for the homeless animals at the the Montgomery Humane Society.
---
Fido Fest Major Sponsor - Lea T
Montgomery Subaru was our major sponsor at our Fido Fest on Saturday, March 30, 2019. We love partnering with them and cannot thank them for their continued support. Their booth was so adorable and VERY popular at the event. Anytime we need support-Montgomery Subaru is always willing to help!
---
Montgomery Subaru Supports CrimeStoppers - Tony G
Every October, Central Alabama CrimeStoppers (CACS) holds their annual fundraising golf tournament at Robert Trent Jones in Prattville as the main source to support our annual programs. We are proud to say that this tournament was our most successful event ever and could not have been done without the support of local businesses like Montgomery Subaru. They have supported us in this sponsorship for the last three years and we look forward to a continued partnership. Plus, Montgomery Subaru personnel go above and beyond to serve on our CACS Board. CACS is a non-profit agency 100% funded by private donations/fundraising, and could not run without the support of our local community. Funds are primarily used to pay out rewards from anonymous tipsters with information about crimes committed in the community. These calls result in thousands of arrests and substantial amounts of property recovery that make a powerful and positive difference in our community.
---
Subaru Customers' Support Learning and Literacy - Allison B
This past August, Montgomery Subaru supported teachers and students in Montgomery County by partnering with the American Association for the Advancement of Science (AAAS) to present over 150 donated science trade books to local school libraries in the Montgomery Public Schools system. Each book was donated on behalf of a customer who purchased a new Subaru in the month of August. All books are designated award-winning by AAAS, provide STEM (Science, Technology, Engineering, and Math) -related content, and support reading and literacy throughout Montgomery elementary and middle schools.
---
Montgomery Humane Society's 18th Annual Walk N Wag - Lea T
Thanks to Montgomery Subaru's major sponsorship once again, MHS was able to have our 18th Annual Walk N Wag event that helps our homeless pets of our community. Montgomery Subaru's tent is always the most popular one at this event, giving away great items for your pets. We love our partnership with the Danielson's, they are always ready to help our pets and they are a great asset to our community.
---
Subaru Delivers Meals and More - Chacolby B
We are proud to have Montgomery Subaru serve as a Corporate Route Partner to deliver hot nutritious and delicious meals to homebound seniors in the City of Montgomery. Team Subaru delivers happy smiles and hellos as they share meals, compassion, and service to homebound seniors neighbors on the route. The volunteers help us fight hunger one senior at the time. The team at Subaru has been a great partner of MACOA as they coordinated a pet food drive to collect food for the four-legged friends of our senior clients. We could not fulfill our mission without the endless commitment of individual and corporate volunteers from Subaru who give their time and talents to serve seniors. You are the open hearts and helping hearts to keep the wheels rolling for Meals on Wheels. Thank you, Montgomery Subaru, for Sharing the Love for seniors, our Furry Friends pet food program, and for being a valuable partner of MACOA!
---
Stuff the Subaru for Child Protect - Laurel T
Child Protect, Children's Advocacy Center serves child abuse victims of Montgomery County in Central Alabama. Our agency provides a child friendly environment where children can come tell about their alleged abuse one time to a trained forensic interviewer, thus lessening the trauma experienced by the children and their families. Last year, Child Protect conducted 628 forensic interviews where there were reports of alleged abuse, with 54% of those being sex abuse cases. Child Protect exists not only to lessen the trauma experienced by the child, but to help build a stronger case for investigators and prosecutors. Our programs include the forensic interview, post-trauma counseling, and family advocacy. All of these services are provided at no cost to the child abuse victim, their families, or the investigative agencies. Child Protect was honored to partner with Montgomery Subaru for their Stuff the Subaru drive. We received items such as snacks, juices, and bottled water to serve to our clients as well as office and cleaning supplies to help our staff. The Subaru blankets with inspirational quotes and messages to the children that visit our agency were our favorite items we received!! We are blessed to know the generous owners, staff, and customers of Montgomery Subaru and cannot thank you enough!
---
Feeding Hope Across Alabama - Teressa V
Montgomery Subaru and their Share the Love promise initiative is a tremendous partner to the mission of the Montgomery Area Food Bank in providing much-needed funds and food to assist those we serve in our 35-county service coverage area. This annual campaign resonates true caring for our local community and beyond. 2017 Share the Love Campaign raised and donated over $14,000 to the Montgomery Area Food Bank. This is equivalent to over 91,000 pounds of food/product that we were able to distribute to those we serve, which provided much-needed help to those that feel forgotten and with very little hope. Feeding someone who needs to be fed is a gift and has been made an option for many through this wonderful donation of caring for the local community by Montgomery Subaru. We are so very grateful for their partnership and all that it does for the overall benefit of those that we serve. John, Karen and Meagan Danielson and their team here locally are wonderful, caring, giving people that emanate an air of true compassion. They also support Montgomery Area Food Bank with one of our other initiatives called "Plant a Row". Planting an extra row or two in your personal garden and donating that fresh, healthy produce to benefit others. Montgomery Subaru Located at 3000 Eastern Blvd., Montgomery, AL 36116 With sincere gratefulness, Teressa Vigneault Millwood Montgomery Area Food Bank Fund/Food Drive & Volunteer Coordinator 521 Trade Center Street Montgomery, AL 36108 334-263-3784 x 307 teressamillwood@montgomeryareafoodbank.org http://www.montgomeryareafoodbank.org/FoodFundDrive3.html Find us on Twitter at https://twitter.com/FeedingHopeALFind us on Facebook at http://www.facebook.com/profile.php?id=100001733547071#!/pages/Montgomery-Area-Food-Bank/156424507736649
---
Subaru Supports Maxwell & Gunter Air Force Base - Paige T
Montgomery Subaru sponsored our annual Egg Hunt on Gunter AFB. They provided over 5,000 candy-filled eggs and prizes! The event was a huge success and we couldn't have done it without them. Subaru truly cares about the local military community and we are grateful they support Maxwell/Gunter. Thanks again, John, Megan, and the entire Montgomery Subaru team for all you guys have done and continue to do!
---
"Paw It Forward" for River Region Humane Societies - Kristen H
Bluewater Broadcasting held a 3-week long promotion called "Paw It Forward" where we partnered with 6 River Region businesses, including Montgomery Subaru, to collect donations for the River Region Humane Societies, including Montgomery, Prattville/Autauga and Elmore County. We had Bluewater collection barrels posted at each sponsor location, where listeners were free to stop by at any time and drop donations for the humane societies. These items included food, treats, toys, bedding, cleaning supplies, etc. At the end of the three-week promotion, we ended up collected over 3,000 pounds of dog food, alone! This was one of our most successful promotions, and we could not have done it without the help of our sponsors!
---
What's better than a Subaru Outback? - Jerry T
Two Subaru Outbacks. I needed to replace my 4 wheel drive truck, and decided on a 2018 Outback. When I became aware of all the safety features, as well as a long list of other desirable features, I also got an Outback for my wife. We both love our Subaru Outbacks. I do landscape and wildlife photography, and the all wheel drive will take me where I need to go, and do so in comfort. Of course Katie the Border Collie loves her Outback.
---
My first Subaaru - Jerry T
I decided to replace my aging truck with a Subaru Outback, and made arrangements to do so. When I became aware of all the safety features, I wanted to get an Outback for my wife, who protested a bit about giving up her Prius. The owner at Montgomery Subaru went above and beyond to make it possible. My wife now loves her Subaru, and I like mine better every time I drive it. The dealer is there is support the Subaru in every way possible. My only regret is that I did not find out about the Subaru years ago.
---